Photos of Kate Moss, Jamie Hince, Alison Mosshart and Miquita Oliver At Singstar Party At Volstead
Kate Does More Karaoke With Jamie, Alison and Miquita
Kate Moss and Jamie Hince took in a second night of karaoke last night at a Singstar party, following their Wednesday night watching Orlando Bloom sing his heart out. They attended the London party at Volstead alongside Jamie's bandmate Alison Mosshart, who sat down outside with a friend for a smoke and a huge smile with her very friendly dog. Miquita Oliver was dressed all in black for her night out, and managed to avoid the scrum of people looking out for a glance of Kate and Jamie — Kate was bundled out of the club by security, with Jamie close behind.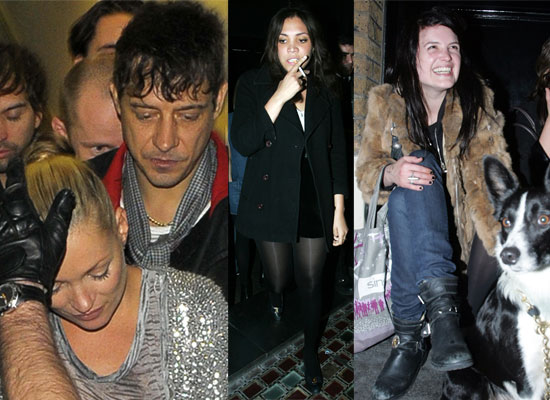 It's not all partying for Kate at the moment though, she was at the Topshop offices yesterday morning looking very summery — Fab UK has all the details on her look!
To see more photos of Kate, Jamie, Alison and Miquita, just read more.