Photos Of Kate Moss, Orlando Bloom, Jamie Hince and Alison Mosshart At Mummy Rocks Charity Event. Kate and Jamie Kissing
Orlando Entertains While Kate Kisses In The Corner
Kate Moss and Orlando Bloom were among the guests at charity auction Mummy Rocks, an event to celebrate Mother's Day is in aid of Great Ormond Street Hospital. Kate was rocking a darker, shorter hairstyle — what do you think? Orlando Bloom rocked the mic during the evening, while Kate watched with Jamie Hince and his style icon bandmate Alison Mosshart.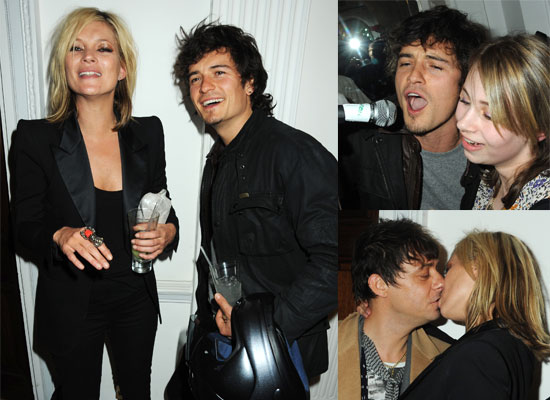 Alison has just teamed up with Jack White to form a new awesome side project called The Dead Weather, and all the musical activity last night has me wondering if Orlando's rock star training for new movie Sympathy For Delicious has him hankering after a music career! Towards the end of the evening, Kate and Jamie shared a laugh with Orlando as he left, before the couple found a corner to get cosy in. Saucy!
To see more photos of Orlando, Kate and Jamie, Sadie Frost and a very tanned Jenny Frost, just read more.