Photos of Kate Moss Who Denies Pregnancy Rumours in Interview With New York Magazine
Kate Moss Denies Pregnancy Rumours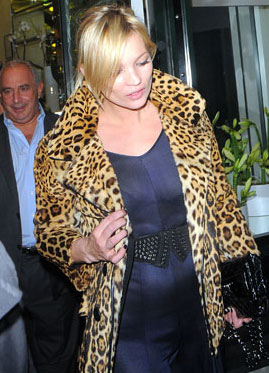 Kate Moss has dismissed those pregnancy rumours in an interview with New York Magazine, saying the apparent baby bump is just weight gain. Talking about her new lingerie collection, Kate said:
"I've got a clear idea of what I want for lingerie. I've just started wearing bras. It's a miracle. Not today, but I have been. Great timing for my lingerie collection. I've just grown breasts... I am a woman now! It's true. No, honestly, I've never worn a bra in my life. Ever! It's so awful, even my friends are phoning me up and saying 'Are you pregnant?' And I'm like, 'No! I just put on a couple of pounds, and they went in the right place.' Isn't that weird? And how perfect for lingerie."
Like me, the majority of you thought Kate probably was pregnant, but for now it looks like Kate's just letting her hair down and eating what she likes. Good for her!