Photos Of Kate Winslet In Italy With Her Husband Sam Mendes, Talking About Airbrushing And Hollywood Standards
Casual Kate Winslet's In Italy, Revealing All About Airbrushing
Kate Winslet and her hubby Sam Mendes arrived in Italy yesterday, looking casual at the airport. Kate looks almost unrecognisable in her England cap and white framed sunglasses! Kate's looking glam on the cover of American Harper's Bazaar this month and she talks about her image, and seeing airbrushed photos of herself. Kate said, "I have wrinkles here [on her forehead], which are very evident, I will particularly say when I look at movie posters: 'You guys have airbrushed my forehead. Please can you change it back?' I'd rather be the woman they're saying 'She's looking older' than 'She's looking stoned'." Always quick to admit many images are retouched, she also said: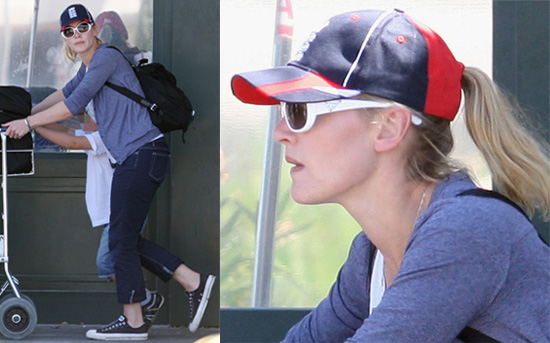 "[Young women] look at all of us, myself included, on these magazine covers and they think 'My God, how does she get skin like that?' And I can tell you, I have so many blemishes under this make-up that have been so fabulously covered, I promise you... [On the red carpet] our knickers will still go up our a** at the most inappropriate moment. And we'll still want to flick them out, but you can't because someone is going to catch you."
Kate talks about image a lot in interviews, do you like to hear celebs like her talk about the reality behind the glossy magazine photos?