Photos of Kate Winslet, Kaya Scodelario & Elliott Tittensor, Nicholas Hoult, Aaron Johnson & Sam Taylor-Wood at Pre BAFTA Party
Bonnie, Nick and Kaya Join Kate for a Pre BAFTA Party
Kate Winslet hosted a pre BAFTA party for Harpers Bazaar and Lancome yesterday, attracting lots of famous faces. Bonnie Wright attended, but not with her man Jamie Campbell Bower — who she's finally admitted she's dating, and will be walking the red carpet with at the awards tomorrow evening. She said "Yes, we're dating, We've been seeing each other for a few months. It's good." I can't wait to see them together at the awards tomorrow evening!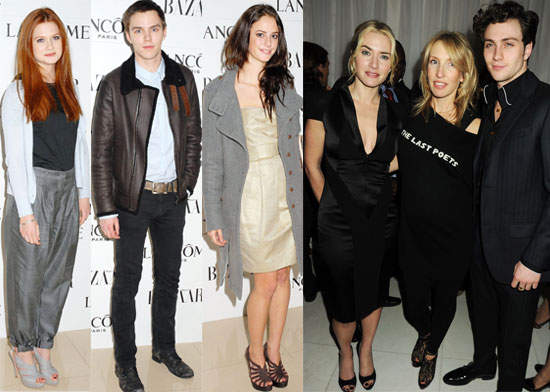 Old Skins costars Kaya Scodelario and Nicholas Hoult also attended the bash — Kaya with her boyfriend Elliott Tittensor — as did Sam Taylor-Wood and her fiance Aaron Johnson. Kate had a laugh with photographer Mario Testino and designer Matthew Williamson, while Cat Deeley hung out with Tamara Mellon, and snogging legend James Corden chatted to Noel Clarke. Don't forget to keep your eyes on the site tomorrow for all the BAFTAs photos and news, and follow me on Twitter to read my tweets live from the red carpet!
To see more photos from the party, just read more.