Photos of Katie Price and Alex Reid at Heathrow Plus Peter Andre and His Interview With News of the World's Fabulous Magazine
Peter Reveals All While Katie and Alex Fly Away
While Katie Price and her "sex mad" boyfriend Alex Reid arrived at Heathrow yesterday, Peter Andre visited Radio One as his interview with Fabulous Magazine in the News of the World hit newsstands. He revealed he still has Katie's name tattooed on his wedding finger, but said: "I will get it removed soon, but it hasn't been on my list of top priorities". He added: "I know we could never get back together. But I'd like to think we can be friends for the sake of the children." Before jetting off to Puerto Banus near Marbella, Kate moved Alex into her home and had to cancel a book-signing on Saturday because of flu and toothache, and her spokeswoman confirmed: "She does not have swine flu, but she has been a little under the weather this week". It sounds like Kate won't be repeating her wild ways in Ibiza, which is just one of the topics Peter discussed during his interview. Here are the highlights: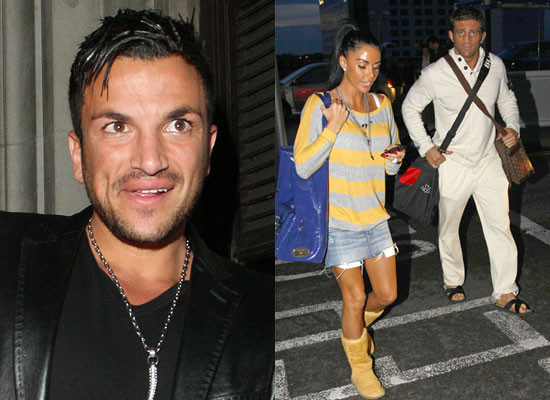 On Kate in Ibiza: "I did phone her and tell her she was a disgrace. I said that because that was what I thought. Of course it gets to me, and if any other man was in my position, I'm sure he would feel pretty bad. It makes me question whether I ever meant anything to her, if any of it was real. But I'm stronger since then - how could I not be?"
On the TV show: "Having cameras following us around maybe wasn't always a good decision. But I never had a problem with it. I found it easy and it wasn't all the time. I love TV. I am what I am, on or off screen. I take my kids out to the park just like any other parent, whether I'm filming or not. There was a point where I wanted to walk away from it, for a split second. I just wanted out. But I can't do that. I have my kids and I have to think about my future. I feel I've got nothing to hide and that people should see what happens next. The public have always supported me, but I've never felt so loved by them as I do now. They've helped me so much and I never take that for granted."
To find out what Peter said about the children and what he's looking for in a woman, read more.


On the children: "The kids don't actually know we've split up. When I leave them with Katie, I just say that Daddy has to go to work so I can buy them toys. And when Katie hands them over to me, I just tell them Mummy is working. I know I have to tell them the truth at some point, but it feels a bit like I want them to believe in Father Christmas that little bit longer. I want to protect them."
On his ideal woman: "I want someone who's happy to sit in and watch movies, go out for dinners, have family holidays together - a girl for whom family is enough. I don't care what job she has, I just want someone who's satisfied with the love I have to give and the family that comes with me. You want to be with someone who wants to be with you. There were times when we were all watching a movie and you knew Katie wanted to be somewhere else. That's not a comfortable feeling."
You were fairly evenly split on whether or not you were interested in what Peter had to say, so how do you feel now his interview has been released?