Photos of Katy Perry, Pete Wentz, Joss Stone at MTV EMA Press Conference
Katy Perry and Sugar UK Prepare for Tonight's MTV EMAs!
MTV EMA host Katy Perry posed with Pete Wentz and Joss Stone at a press conference yesterday ahead of the MTV Europe Music Awards at the O2 Arena in Berlin tonight, which airs on MTV at 9pm. Pete is taking on digital hosting duties, while Joss will be presenting the red carpet online at 8pm. Acts performing include Beyonce, Jay-Z, Leona Lewis, Shakira, Green Day, Foo Fighters and Tokio Hotel, and presenters include Brody Jenner, Bar Refaeli, Backstreet Boys, Jonas Brothers and more. Katy joked what she'd learned from Russell Brand wouldn't be appropriate for the show, and also spoke about her outfits, saying: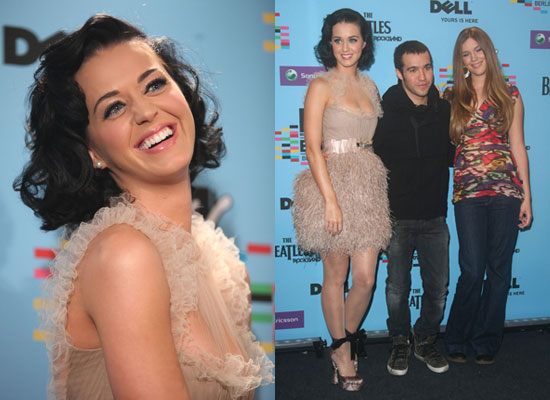 "I don't care if I do fall over or if a boob does fall out! ... I'm highlighting what God gave me. Using what your mama made! ... There's a 1930's dark romantic vibe. It's still gonna be fun but the fruit has all gone sour. It's sexy with naughtier undertones. Taking the vibe of Berlin and putting into the visual - using lots of crystals and bowler hats and bow ties and boobie things."
Stay tuned to Sugar UK, as we'll be brining you all the pictures from the red carpet, gossip from the show and the winners as it happens tonight, while FabUK and BellaUK will be asking what you think of all the outfits and beauty looks in their love it or hate it polls!
To see more pictures from the press conference, just read more.