Photos of Keira Knightley Filming Never Let Me Go on Beach Near Bristol
Keira Takes to the Beach Whilst Striving For Balance
Keira Knightley swapped the countryside for the beach yesterday, to film the next scenes for her latest film Never Let Me Go. The crew are in Clevedon near Bristol for the next three days and Keira looked very happy to be there as she joked with her castmates. Being away from boyfriend Rupert Friend must be tough, and Keira has spoken witth Marie Claire Australia about how she tries to balance her working schedule and her personal life, saying: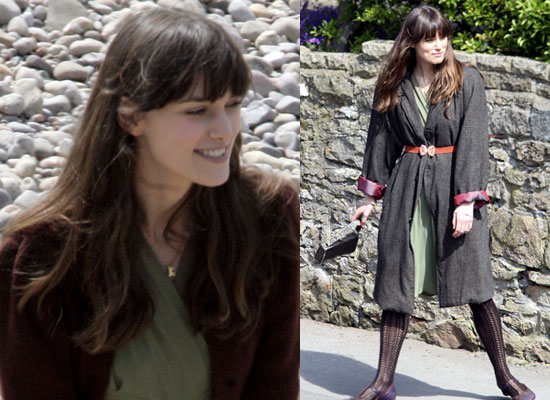 "It's hard to have a relationship when you're working so much. But then you have to think, 'What is actually important in life? Is career your only thing?' If it is, then it's easy, but if it isn't that's sad, because there's going to come a day when you're left lonely. It's a difficult balance. I think you've got to strive for balance. It's the striving that counts. If you're someone like me, who has always been very driven, to suddenly step back and decide, 'Well, love is the only thing', then you need to build up your relationships."
With a gorgeous guy and a successful career, it's no wonder Keira strives to balance both.
To see more pictures of Keira filming, just read more.