Photos Of Keira Knightley Laughing And Smiling On The Set Of Last Night In Soho, New York City
Keira Smiles and Snacks In Her Scarf
Keira Knightley left her famous pout at home while on the set of her new movie Last Night with Guillaume Canet in Soho, New York yesterday. I think she's absolutely cute as a button when she grins and laughs so these pictures made me smile. The synopsis for the movie is as follows: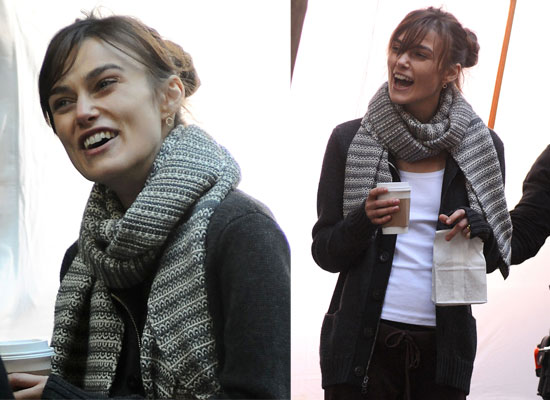 The story follows a married couple, apart for a night while the husband takes a business trip with a colleague to whom he's attracted. While he's resisting temptation, his wife encounters her past love.
I think it will be nice to see her in this role, acting a modern character again, and the synopsis certainly intrigues me. At this early stage does it interest you enough to think that you'll see it?