Photos of Keira Knightley and Rupert Friend Kissing at Dinner in London
Keira and Rupert Find Time For Kisses
Keira Knightley and Rupert Friend kissed and snuggled during dinner at Barrafina in London last night. Too cute! Rupert was without Keira at Cheri's UK premiere earlier this week, as she was too ill to attend, so the couple made up for lost time during their romantic meal: it even looks like Keria borrowed Rupert's stripy top for the occasion. Keira's spoken about how she strives for a balance between work and relationships, and Rupert has now revealed they use Skype to stay in touch. He does, however, prefer the old-fashioned love letter, saying: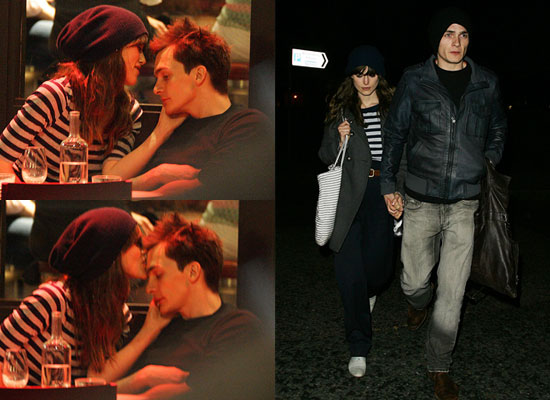 "I love letters. It is probably a far more romantic idea to go away to sea and write letters. But my handwriting is terrible, almost illegible. So I have to go really slowly, and I think faster when I write. So my writing goes away from me and is really not very good."
Aren't they adorable?
Lots more cute pictures of Keira and Rupert, so just read more.