Photos of Kerry Katona Who Announced She Is Pregnant With Her Fifith Child Over Twitter Kerry Katona Denies Pregnancy Reports
Update: Kerry Katona Denies Reports She Is Pregnant With Her Fifith Child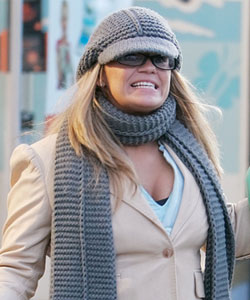 UPDATE: Kerry Katona has denied reports she is pregnant. Her PR Sean O'Brian confirmed it was a hoax, and also said Kerry had not quit fat camp but was sent home because the snow meant the course was postponed.
Kerry Katona seemed to reveal via Twitter she quit fat camp because she's pregnant:
"Ok twits, I wouldn't normally come out and say this cos its dead early but all the BULL**** being wrote in press that I quit, I'm fat, I'm lazy is CRAP! I had to leave cos I found out that me and Mark are having another baby! Yep!!! We are dead shocked but OVER THE MOON!'
Strangely, Kerry's Twitter page has since been deleted. Kerry has four children, Brian McFadden's daughters Lily-Sue and Molly, and Mark Croft's children Heidi and Max. We now know the Twitter account was removed as it was fake, following Kerry's PR's denial of the claims.