Photos of Kiefer Sutherland at Late Show with David Letterman: Watch Trailer 24 Day 7 Airs on Sky 1 on Monday 12 January 2009
Kiefer Sutherland Gets Ready for the Return of 24
UPDATE: take my recap quizzes on each episode of 24 Day 7!
Having earned his spot on my top shirtless shots of 2008, Kiefer Sutherland wrapped up warm in New York last night, for his appearance on the Late Show with David Letterman. Now a proud owner of a star on the Hollywood Walk of Fame, Kiefer will be making weekly visits into our living rooms from Monday 12th January, when 24 Day 7 airs on Sky1 at 9pm: check out the trailer after the jump. In last night's documentary on the new series, 24 In 24, Kiefer revealed that his costars were so worried about getting killed off in the new series that they refused to stand next to him: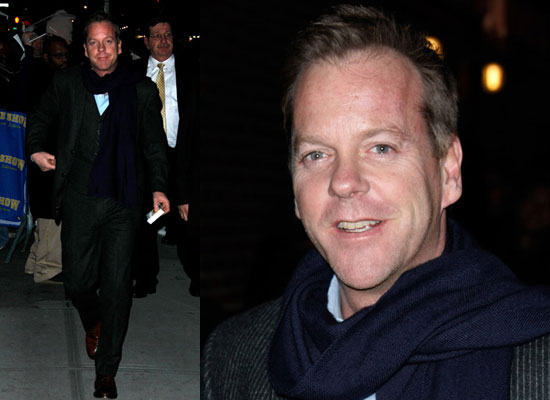 "If they end up standing too close to me for any long period of time there is a good chance they will get shot. So if I end up rehearsing a scene with four or five people, no one wants to be the one standing next to me."
I wouldn't mind taking a spot next to Kiefer, and I cannot wait for 24 to return!
To see the trailer for 24 Day 7 (warning: contains spoilers), just read more.