Photos of Kiefer Sutherland in London and Cast of 24 in Munich
24's Kiefer Sutherland Saunters into London
Kiefer Sutherland looked handsome in his suit as he returned to his hotel after an evening out in London last night, having partied at Claridges with costars Annie Wersching and Carlos Bernard the previous day. He won't be in town for long though, as the cast are on the road promoting 24, stopping off in Germany this week and attending the TCA panels in LA last week. If you're a fan of the show then you can prove how well you've been paying attention to Day 7 by taking my recap quizzes on each episode. Kiefer and the producers have decided that the eighth season will be the last, and we shouldn't expect a happy ending for Jack. Kiefer has said: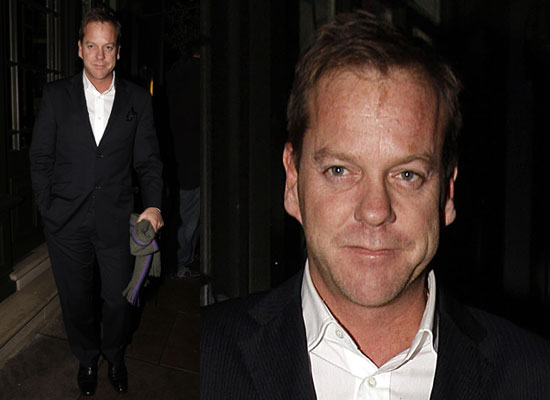 "I see Jack as a really human figure and there is something innately tragic about people. I think there is no winning. We're all going to die. There's something kind of sad in that, and yet there's something really beautiful and hopeful."
The producers have given us some hope to cling on to, saying Jack may return in a film after the TV show ends. More Bauer is always fine by me.
To see pictures of the cast in Munich, just read more.
Images include: Mark Williams, Annie Wersching, Kiefer Sutherland, Carlos Bernard, Jon Cassar