Photos Of Kristen Stewart and Joan Jett In LA Looking Very Similar, Kristen Talking About Joan's Triumphant Feminist Story
Kristen Mirrors Joan Jett For "Triumphant Feminist Story"
Kristen Stewart was hanging out with Joan Jett in LA yesterday as she prepares to play her in new biopic The Runaways. The twosome are looking more and more alike thanks to Kristen's recently cut and dyed hair, and the Twilight star is really excited to tell Joan's story. She recently spoke about preparing for the role, saying: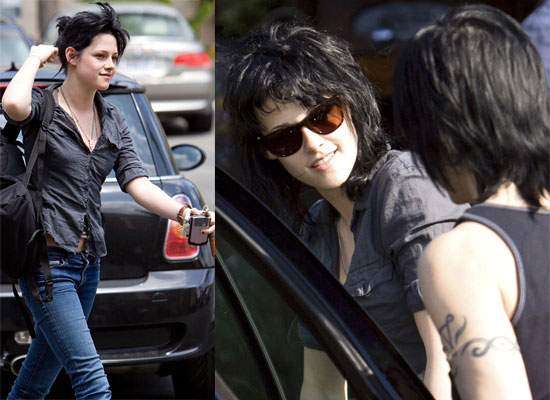 "I'm just listening to her music all the time. I'm trying to just make myself aware of the time period and what she was going through. It's one of the most immense responsibilities to play a real person. Her story's important. It's an incredibly triumphant feminist story really. She's the first woman to ever start her own record label. So many people know her as just being like one of the coolest people to ever live. That in itself is one of the most intimidating things that I've ever had to confront but she's so cool too."
I can't wait to see how it all turns out!