Photos of Kristen Stewart at The Yellow Handkerchief Premiere Before Robert Pattinson BAFTAs Date and Taylor Lautner Oscars Date
Kristen Premieres Her Handkerchief Before Robert Reunion at BAFTAs and Taylor Time at Oscars!
Kristen Stewart wore a black dress and heels as she premiered The Yellow Handkerchief with costars Maria Bello, William Hurt and Eddie Redmayne at the Pacific Design Center in Los Angeles last night. The majority of you are looking forward to the film, which has a limited released in the US at the end of the month. Kristen will be heading over to our shores now for Sunday's BAFTAs. Robert Pattinson has been announced as one of the presenters, so I'm really hoping to see the Twilight pair reunite on the red carpet as they're one of my favourite couples. Make sure you follow me on Twitter to get all the gossip from the red carpet and the ceremony live! Kristen is nominated for the Orange Rising Star category, and said: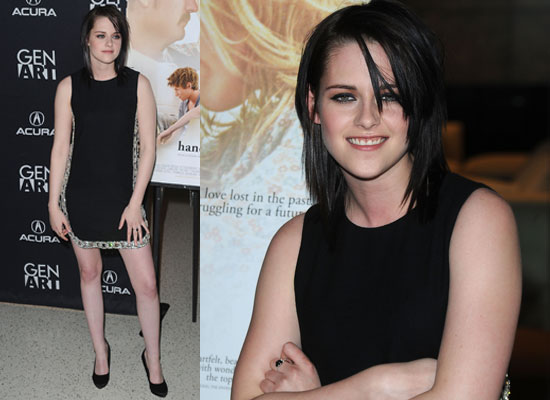 "I feel so funny about it. Really cool people have won and really cool people are up for it this year. And I know a few of them, like Jesse [Eisenberg] and Carey [Mulligan]. I can't even actually think about that. If I win, I'm gonna be like, 'Carey, Jesse, suck it up—'cause I think Tahar [Rahim] should have won."
Kristen also revealed she'll be presenting with Taylor Lautner at the Oscars on 7 March!
To see more pictures of Kristen and her costars, just read more.
Images include: Kristen Stewart, Eddie Redmayne, Maria Bello, William Hurt