Photos of Kylie Minogue Outside Her West London House, Performing As Part Of An Abba Tribute
Kylie Minogue Welcomes Autumn With An Abba Duet!
Kylie Minogue stepped out in London yesterday looking rather Autumnal in some jumbo fringing and knee high black boots, smiling at photographers as she left her home. On September 13 she'll be performing in London's Hyde Park as part of a tribute to Abba, covering "Super Trouper" and also doing a duet with original member Benny Andersson, singing "When All Is Said And Done". Kylie's excited about joining the lineup, and said: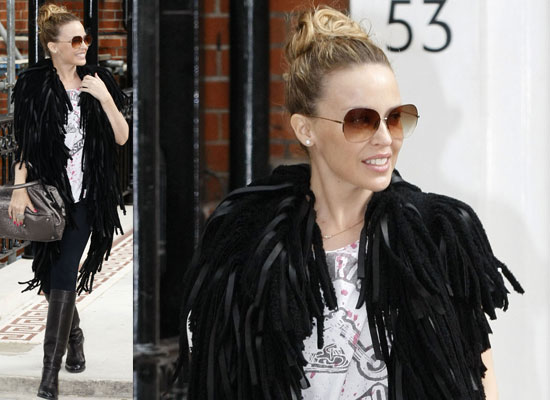 "The opportunity to perform classic Abba songs on stage with members of Abba really is a dream come true. Their music has played such a great part in my life from a very early age and I'm thrilled I'll be able to share that with them personally."
I've been on an Abba kick since Mamma Mia, so I can't wait to see the show — are you looking forward to it?