Photos Of Kylie Minogue In Paris To Meet Jean Paul Gaultier For Lunch
Kylie Can't See Coupledom In Her Future
Kylie Minogue was in Paris today for lunch with French designer Jean Paul Gaultier. I love her casual look, the off the shoulder top and fringed boots are oh-so-casual, yet just smart enough, right? Kylie's been speaking out about her style secrets, as well as her thoughts that she's not destined to get married and have children — she said: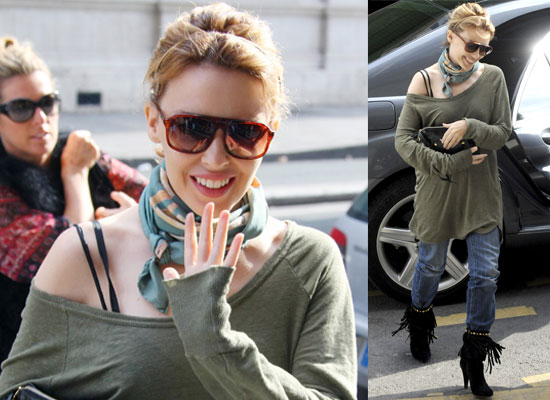 "There are days when I think, actually, that's not the right path for me, I never really felt I was made for an ordinary life, like a husband and a terraced house in the suburbs. A great dream of mine is to be in a film musical, I know it would be such a fun challenge. It would incorporate so many different aspects of what I already do."
She was fun in her brief appearance in Moulin Rouge, so I'd love to see her in a bigger part in a musical in the future!