Photos of Lady GaGa, Katy Perry, Alesha Dixon, Lily Allen, McFly, Amy Winehouse, Pete Doherty and More at V Festival 2009
Katy, Alesha, GaGa, Amy and More Rock the V Festival Stage!
Superstar singers took to the stages in Chelmsford and Staffordshire for V Festival this weekend. Katy Perry, Lady GaGa and Alesha Dixon impressed on stage in their outlandish outfits. My girl FabUK has the lowdown on all the stylistas, and I've got videos of the big performances — check them out after the jump. Lily Allen took time out from the cricket to sing on stage, and musicians from both sides of the Atlantic entertained the crowds.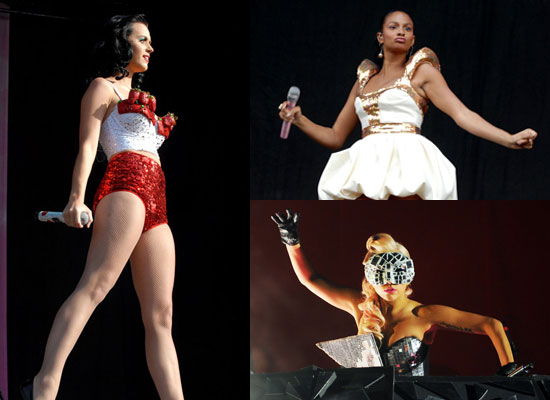 Brandon Flowers, Johnny Borrell, Dizzee Rascal, Mike Skinner, McFly, Natalie Imbruglia, Taylor Swift, Pixie Lott, Daniel Merriweather, James Morrison, Paolo Nutini, The Script and The Saturdays all performed. The big disappointment was Oasis were a no-show due to Liam Gallagher's viral laryngitis, but the big surprise was Amy Winehouse's appearance on stage with Pete Doherty and The Specials: you can watch her performance after the jump.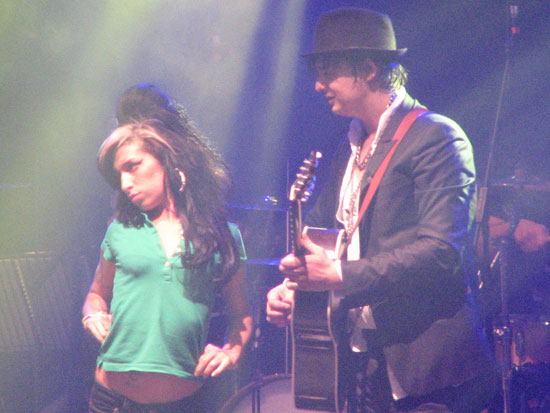 To see loads more pictures, plus videos of performances from Amy Winehouse, Lily Allen, Katy Perry and Lady GaGa, just read more.
Lady GaGa "Paparazzi"
Lily Allen "22"
Katy Perry "Waking Up in Vegas"
Katy Perry "I Kissed a Girl"
Amy Winehouse and The Specials
Images include: Dizzee Rascal, Lily Allen, McFly, Pixie Lott, Taylor Swift, The Saturdays, Alesha Dixon, Daniel Merriweather, James Morrison, Katy Perry, Mike Skinner, Natalie Imbruglia, Paolo Nutini, Lady GaGa, The Script, Brandon Flowers, The Killers, Johnny Borrell