Photos of Lady GaGa in London
Golden Girl Lady GaGa Gets All Tied Up in London
Lady GaGa is certainly making her mark on London this week, slipping in to a white all-in-one outfit last night having donned a black PVC corset and glittery knickers on previous days. It's all systems go for the Pussycat Dolls support act, with her must have album out this week and single "Just Dance" riding high on the UK charts and the US Billboard Hot 100. Although she's had a dig at Alexandra Burke, she's got big plans to affect British culture, and with that tied up hairstyle she's definitely made an impression on my girl BellaUK, who wants to know: do you love or hate her hair? Lady GaGa's given several interviews recently, and here are the highlights: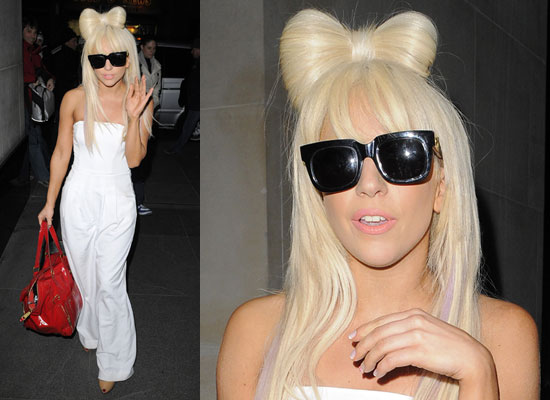 On whether it's important to be successful in the UK: "As somebody who has been obsessed with The Beatles and David Bowie it definitely is. The UK has a very specific way it receives pop music. It means a bit more to be received here. I tailor my music in line with many British who came way before me."
On the visual elements: "For me, fashion and the visuals, that's like the full body of the work. What I do is performance art. It's pop music that's meant for the Louvre... If you say something long enough, people will listen. Warhol kept telling people: 'This is art, this is art, this is art' and eventually they said: 'Andy Warhol is brilliant, he is the future of art'. You just have to keep hammering the image."
On keeping it fresh: "Even though I sing about panties and pornography and fame, I take it all very f***ing seriously. It's not about everyone knowing who you are, it's everybody wanting to know who you are. Every time I get on the stage, I do something different. I want people to think, 'Every time I have this b***h nailed down, she does something different.'"
To find out who has inspired Lady GaGa, just read more.
On Donatella Versace: "Donatella is my muse in so many ways. She's powerful but she's also an icon in the way that people throw darts at her - she's provocative."
On the Hiltons: "Paris and Nicky Hilton went to my school. They're very pretty, and very, very clean. It's impressive to be that perfect all the time. In commercial terms, they've been quite an influence on me!"