Photos of Leonardo DiCaprio, Michelle Williams, Ewan McGregor, Pierce Brosnan, James Franco at Berlin Film Festival 2010
British and American Stars Flock to Berlin Film Festival
The Berlin Film Festival kicked off over the weekend with lots of British and American actors heading to Germany. On Friday, a busy James Franco promoted Howl at the film's photo call and premiere, and Ewan McGregor, Pierce Brosnan and Olivia Williams were together for The Ghost Writer: check out the trailer and let me know whether you'll see it or skip it.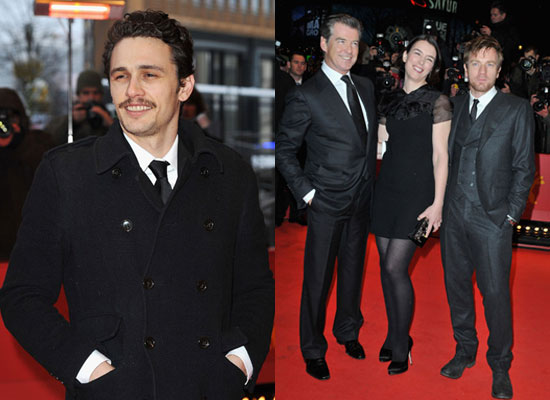 Come Saturday it was the turn of Shutter Island: check out the trailer after the jump. Director Martin Scorsese was joined by his film's stars Ben Kingsley, Mark Ruffalo, Leonardo DiCaprio and Michelle Williams: my girl FabUK wants to know do you love or hate her look? Then on Sunday the team behind Greenberg got together for the premiere, including Ben Stiller, Rhys Ifans, Greta Gerwig and Noah Baumbach: will you see it or skip it?
To see more pictures of photo calls and premieres plus the Shutter Island trailer, read more.
Shutter Island trailer
Images include: Leonardo DiCaprio, Michelle Williams, Ewan McGregor, Pierce Brosnan, James Franco, Ben Kingsley, Martin Scorsese, Olivia Williams, Mark Ruffalo, Ben Stiller, Rhys Ifans, Greta Gerwig, Noah Baumbach