Photos Of Lily Allen After Performing At G.A.Y, Extracts Of Her Interview About Her Miscarriage and Her Mother.
Number One Lily Talks Heartache, Family and Friends
Lily performed at G.A.Y at the weekend, wearing something approaching a sailor's outfit and confidently showing off her bum to the audience! She was showing skin and celebrating early as her single "The Fear" went in at number one in the UK singles charts, cementing her musical comeback — it's fab to see her back doing her job and doing it well. She spoke to the Telegraph magazine recently in a fascinating interview, here's a little of what she revealed: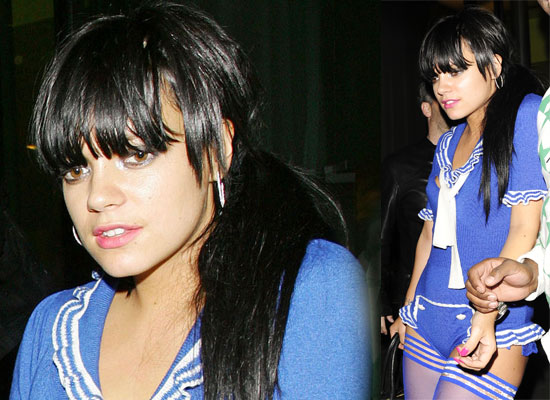 On her miscarriage: "It's pretty hard to talk about it, but that Christmas I was at home with my family and Ed, and I wasn't drinking, and I was just sat there knowing I was having a baby and I was in absolute bliss. Sitting round eating turkey, playing games, watching everybody getting drunk, and being really excited knowing this time next year I was going to have a baby. And I haven't."
To read what Lily had to say about hanging out with Joe Strummer at Glastonbury, and her relationship with her mother, just read more.
On Joe Strummer: "He was just great. I remember once when I was 14 or 15 I said I wanted to go up and meet some friends of mine in the travellers field and he said 'I'll walk up there with you', and we stayed up there for two days, just me and him. He was the person that would bring the sound system with all the good music and he'd put all the flags up and get the hay bales in. He had a thing about him where he could be realy out of his mind but still really cool... I don't actually like going to Glastonbury now that he's gone, because he's actually the one thing that held all of that stuff together and made it nice. Rather than just a bunch of drug addicts.
On her mum, Alison Owen: "I think we have a lot of the same insecurities. She's amazing, my mother — she's an incredible woman — but she's taken a lot of knocks from people. At a very early age I was in tune with her, and able to pick up her feelings. Literally, from the sound of her footsteps I can tell what kind of mood she's oin. And sometimes that didn't work very well for us, because I could manipulate her: I was quite nasty to her for a long time. I blamed her for a lot of things, which I shouldn't have done. I think I felt quite angry that we were normal.