Photos of Lily Allen, Alfie Allen and Jaime Winstone at The Unloved Premiere After Party
Lily Parties With Alfie and Jaime, Praises Cheryl Cole
After performing in Swindon and London earlier this week, Lily Allen took the night off and spent yesterday evening with her brother Alfie and Jaime Winstone at Gamma and the Groucho for Samantha Morton's The Unloved premiere after party. Alfie and Jaime have just bought a flat in the East End, and Lily has already thought of a house warming gift, saying: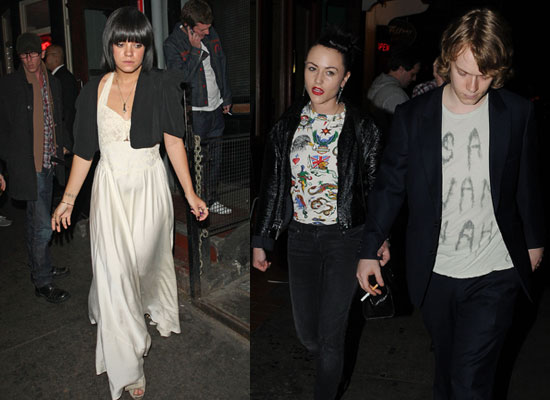 "I've been so busy with work I haven't had chance to go round and see Alfie's flat yet. My mum went to see it the other day and said it was great. Because of what him and Jaime do they have been given loads of free stuff so he's got a huge new plasma in the living room. My mum said 'That's a nice TV', but I was like, 'No mum, it's not a TV it's a monitor. They're both a bit strapped at the moment, but it hasn't got to the point where I'm sending food parcels round. Instead I'm sending them a Virgin Media package for the monitor."
Lily is also continuing to make nice with Cheryl Cole after those harsh words were apparently wrongly attributed to her, and has now said: "You know, I've never been in the same room as Cheryl Cole, but if I was I'd go up and say 'hi'. She's a lovely lady and she's very good on X Factor". It's good to see Lily focussing on the positive!
To see more pictures of Lily, Alfie and Jaime, just read more.