Photos of Lily Allen on Elle Cover October 2009 Issue
Lily Goes Blonde and Talks Marriage With Elle
Lily Allen has donned a blonde wig for the cover of Elle UK's October issue, which is celebrating 25 years of London Fashion Week. Rankin's photoshoot, called "The Designer Remix", sees Lily take on different looks created by seven London designers, including Giles Deacon, Richard Nicholl and Luella Bartley: check out behind the scenes footage. In the interview, Lily talks about style, gigs and the future. Here are the highlights: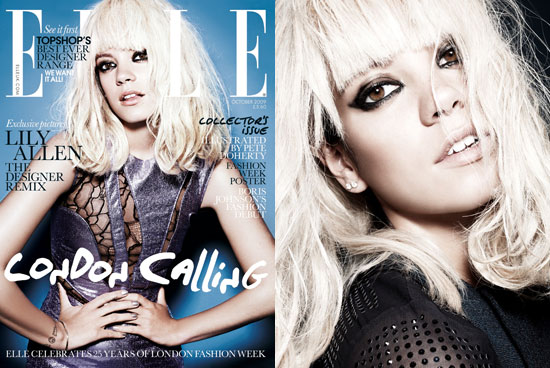 On choosing gig outfits: "I never plan what I wear, not until about five minutes before I go on [stage]. It is totally about what I'm comfortable in at that moment. That's why I can't plan because I don't know how I'm going to feel."
On her pre-gig routine: "I have to get to a gig at least an hour and 45 minutes before because I like to get in there, I like to put my music on, I like to do my hair ­ I do my own hair and make-up ­ and choose clothes and do a bit of vocal warm-ups and then go upstairs, peek behind the curtain, get a feel for where it is I am and what kind of people it is I'm performing to, and try and adjust to what they are going to like."
On plans for the future: "I suppose now I'm thinking about the next step and whether I want to get a place in the country. Actually, I probably should just sit back and relax a bit. I don't know if I'll continue with what I do or if I'll get married and have kids I have no idea what it is that I want."
Would you be disappointed if Lily gave up music? You can read the full interview in the October issue of Elle, which goes on sale on Wednesday 2nd September.