Photos Of Lily Allen Leaving Sydney Airport, Australia
Lily Leaves Australia To Tour UK
Lily Allen left Sydney yesterday, looking casual at the airport in her boots, jeans and t-shirt. Her run of UK live shows kicks off on March 14 in Glasgow and ends on March 28 in London, before she heads back to America for more tourdates in April. Like Kate Moss, Lily's had some frustrations with the press lately, complaining some photos of her house taken by the New York Times had ended up in OK Magazine after they paid the American publication for them. She said: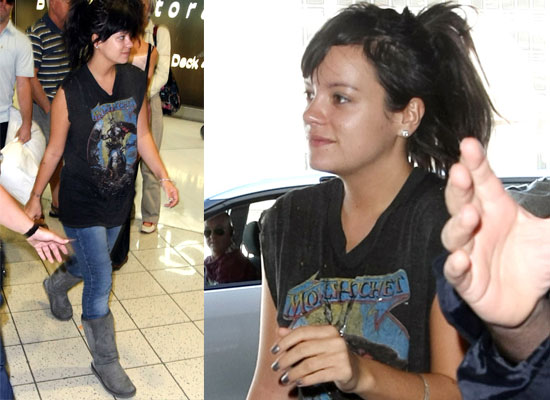 I was mortified, in fact I was in tears, 6 photos of inside my home for everyone to see, and a made up interview that was very misleading.
It turned out there was nothing she could do about it, but she wanted to make it clear that she hadn't given OK an exclusive and hadn't received any money from the magazine. What do you think of stars and their 'at home' exclusives? Do you think it was important that Lily set the record straight?