Photos Of Lily Allen and Miquita Oliver Out In London Last Night, plus The Story Behind Her Womanizer Cover
Lily's Womanizer Cover Gets Her In Trouble
Lily Allen was out in London with Miquita Oliver last night, making their way between a few bars in North London with cigarettes in hand. Lily's cover of Britney Spears' "Womanizer" has spread quickly on the internet, but it's got her into trouble with her record label, EMI. She sent it to Mark Ronson to play on his radio show but fans ripped it and posted her version online, here's Lily's side of the story from her myspace: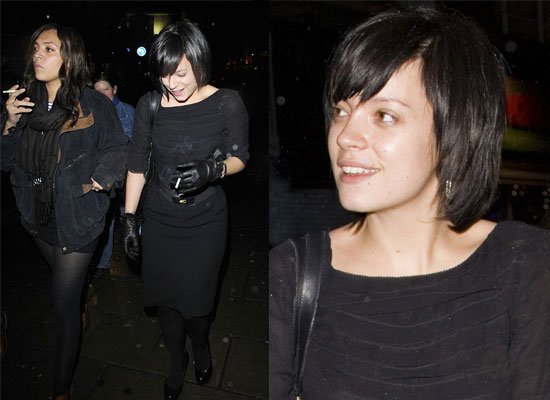 now some of you may be wondering why i covered "womanizer", simple really, i love britney and i love the song. it wasn't my intention for it to have whizzed round the world like it has, mark ronson asked me for something no one had heard to play on his radio show and womanizer was the only song i had as an attachment on my blackberry and i couldn't get home to send him anything else in time. i had asked him to talk all over it so it wouldn't get ripped, but he didn't, thanks mark for getting me in serious trouble with my record company.
I loved her version of the song, but have you heard the track? What did you think? My girl Buzz wants to know if you prefer Britney's or Lily's version, so vote in her poll!