Photos Lily Allen at MySpace Secret Show at Bowery Ballroom in New York City
Lily's Living It Up in NYC and On Track For the Double
Lily Allen continued her publicity trip around North America, moving on from TV appearances in Canada to the Bowery Ballroom in New York City for the first of her MySpace Secret Show series. The singer gave a shout out to her "favourite singer" Britney Spears before launching in to "Womanizer" in the encore, wearing black gloves with her red dress. She's been chatting about the cost of her wardrobe, admitting she spent £100,000 on clothes last year. Wowzers. With her single "The Fear" on track to keep the number one spot, and her album It's Not Me, It's You expected to debut in first position, Lily's looking at a chart double this Sunday.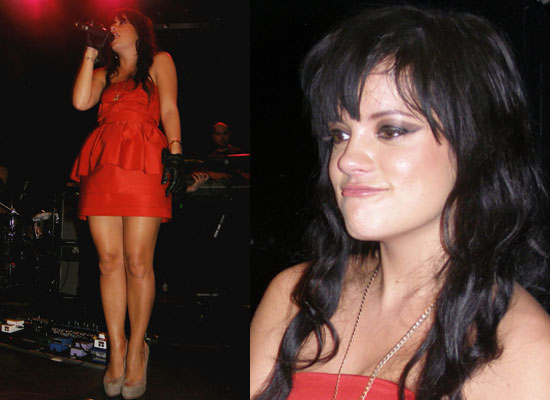 To see the full set list and pictures from last night's show, just read more.
"Everyone's At It"
"LDN"
"I Could Say"
"Not Fair"
"Fuck You"
"Who'd Have Known"
"22"
"Him"
"Never Gonna Happen"
"Back to the Start"
"Littlest Things"
"Smile"
"The Fear"
"Womanizer"