Photos of Lily Allen Performing at Postbahnhof in Berlin
Lily Allen to Turn Landlord as Secret Show Approaches
Lily Allen matched her gorgeous glittery silver shoes to her silver eye makeup when she performed at Postbahnhof in Berlin on Sunday. Life is certainly getting busy for Lily: as well as starring in Chanel's new ad campaign the singer is turning her attention to the property market, as she is reportedly looking to buy a property in south west London to rent out. She'll be in London on 11 May for the third and final gig of her MySpace Secret Show series, and said: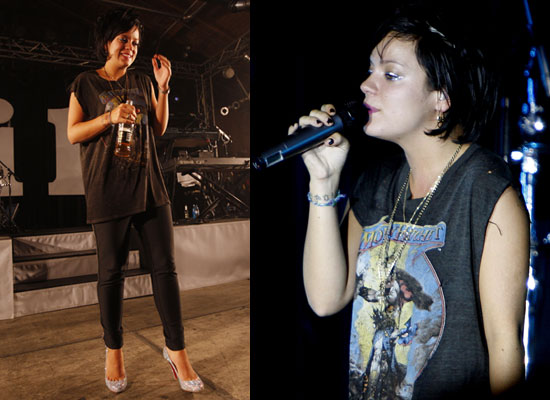 "The fans at the Tokyo and New York MySpace Secret Shows were totally amazing and I expect nothing less from the home crowd. To give it an extra layer of excitement I'm asking fans to dress as London Tube stations - but they won't know exactly where I'll be performing until the day."
Sounds like the crowd will look as interesting as Lily herself!
To see more pictures of Lily on stage, just read more.