Photos of Lily Allen, Rhys Ifans, Agyness Deyn and Kylie Minogue at Atlantis Palm Resort Grand Opening in Dubai
Lily, Agyness and Kylie Party in Recession-Free Dubai
A-listers were out in force last night for the lavish opening of the Atlantis Palm Resort and Palm Jumeirah in Dubai, with Lindsay Lohan, Mischa Barton and Mary-Kate Olson slipping on their gladrags. Us Brits were represented by a suave Gerard Butler, glittering Agyness Deyn and graceful Lily Allen, who left the balloons at home and accessorised with Rhys Ifans and a reported £5 million of Chopard jewellery. Wowzers. Kylie Mingoue picked up a big pay cheque for her 60-minute performance, and the whole event cost £15 million. Recession, what recession?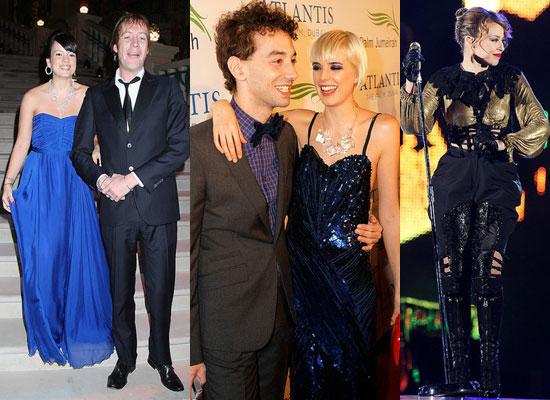 To see all the other stars, including Charlize Theron, Stuart Townsend, Lindsay Lohan, Samantha Ronson, Mary-Kate Olsen, Mischa Barton, Natalie Imbruglia, Robert De Niro, Stuart Townsend, Gerard Butler, and Janet Jackson, just read more.
Images include: Agyness Deyn, Albert Hammond Jr, Ann Dexter-Jones, Boris Becker, Charlize Theron, Chris Tucker, Daisy Lowe, Gerard Butler, Holly Branson, Jade Jagger, Janet Jackson, Jermaine Dupri, Joan Branson, Kylie Minogue, Lily Allen, Lindsay Lohan, Mary-Kate Olsen, Matthew Williamson, Michael Jordan, Mischa Barton, Natalie Imbruglia, Quincy Jones, Rhys Ifans, Richard Branson, Robert De Niro, Sam Branson, Samantha Ronson, Sarah Ferguson, Shirley Bassey, Stuart Townsend, Wesley Snipes, Will Cameron
There are more pictures of the starry night over at InStyle UK.