Photos of Lily Allen, She talks about her lesbian dreams and how little she earns from album sales
Lily Talks Lesbians and Her Lack Of Album Earnings
Lily Allen was out in London last night, wearing a big black fur coat and hat to guard against the cold... well, for most of the night. She ate out at Nobu and then went on to a couple of bars, leaving one with just a vest top on — she must have been freezing! In the buildup to her album release in February, she's been doing a lot of interviews where she's been talking about her lesbian dreams and the fact that she makes very little money from album sales. She said: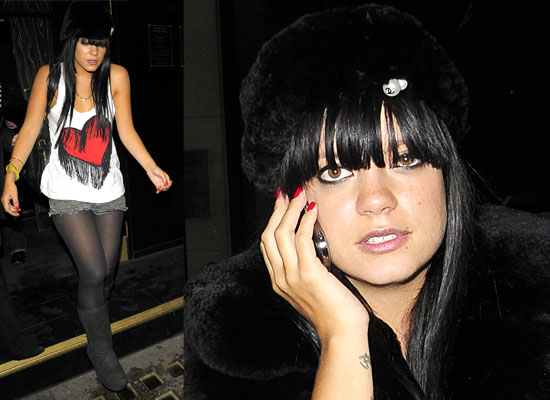 "I don't make money at all from selling an album which is probably why I feel so angry about having do to all this promotion, because I'm not earning money out of it. Someone else [does] and they don't have to live with the lasting effects."
What do you think of Lily's complaint? Should stars earn more from albums, or is it fair that they earn in other ways, for instance while touring?