Photos Of Lindsay Lohan On The Cover Of Elle Magazine During Controversil Cover Shoot Where Jewellery Was Allegedly Stolen
Lindsay's Worth Waiting For On September's Elle Cover
Lindsay Lohan stars on the cover of Elle magazine's September issue, in some great photos shot by Rankin. Check out the video where it's revealed that the team waited twelve hours to begin the shoot! The photoshoot for this issue was the cause of some headlines as it led to a police investigation when some jewellery went missing from the set. None of the jewellery is in these photos, and Elle have previously stated they have no reason to believe that Lindsay had anything to do with the theft. Police made this statement: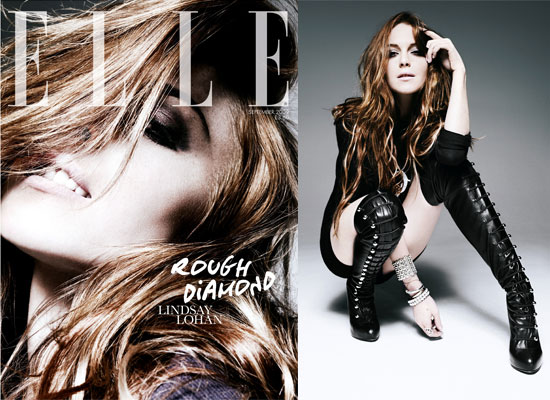 "Officers from Westminster police are investigating an allegation of theft of jewellery from studios in Brewery Road, Islington. The theft was reported to a central London police station on 8 June 2009 after earrings and a necklace, believed to be diamond and estimated to be worth in the region of almost £24,000, were found to be missing approx two days earlier. Inquiries are continuing. There have been no arrests at this stage. We will be speaking to a number of people in connection with the inquiry. We do not discuss the names of people we are planning to interview."
Despite all the controversy, Lindsay looks great in these photos, so check them all out in the gallery below!
To see more photos just read more.
More photographs of Lindsay and the story behind the shoot will appear in the September issue of ELLE Magazine, on sale Wednesday 5th August.
Photos courtesy of Elle Magazine UK