Photos of Madonna and Guy Ritchie During 2008 Before Their Divorce
Biggest Headlines of 2008: Madonna's Divorce
As part of our look back at 2008, we're recalling the biggest headlines of the year. We hope you enjoy joining us as we remember those stories that hit the headlines in a big way. We'll reveal more throughout December, so stay tuned.
When Madonna and Guy Ritchie announced they were getting divorced in October, it followed months of speculation. Way back in March rumours suggested their marriage was rocky, but Madonna's rep Liz Rosenberg released a statement saying they "remain happily married... All is well and wonderful in the Ritchie household". They continued with their show of solidarity over the summer, attending Cannes Film Festival in May, and being spotted at the London Kabbalah Centre together in June.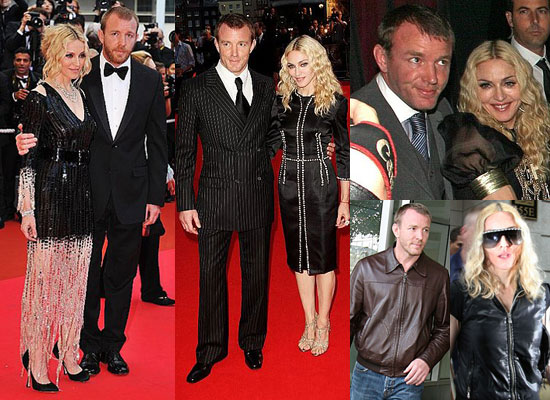 By the end of June, however, The Mirror claimed a world exclusive with the news Madonna had asked Guy for a divorce. More fuel was added to the claim when Guy was spotted in New York just a few days later without his wedding ring. However, Liz Rosenberg once again issued a statement saying the rumours were false. Just one week later Madonna herself released a statement denying rumours she was having an affair with New York Yankees star Alex Rodriguez and was divorcing Guy.
To continue on this trip down memory lane, just read more.
Come August it was birthday time, with the couple celebrating Madonna's 50th with a group of friends in London. She then joined Guy on the red carpet for RocknRolla's world premiere in London in September, and the couple celebrated Guy's 40th together the following week at his pub, The Punch Bowl. However, the bubble burst just days later, when The Sun broke the news and within hours Liz Rosenberg made the official announcement that Madonna and Guy were to divorce.
Once it was made official, rumours continued about the details of the divorce. It was reported that Madonna decided to end her marriage because Guy refused to spend more time in New York, shunned her love of Kabbalah, failed to support her emotionally over child adoption plans, and put his London pub before his family. Contradictory reports came out about whether or not Guy was looking to receive any of Madonna's fortune, and there were suggestions he had signed a "behaviour contract" in an attempt to save their relationship.
Then rumours of new partners started to emerge, with Guy being linked with Sherlock Holmes actress Kelly Reilly, and Madonna continually facing rumours about her relationship with Alex Rodriguez. By the end of November they were granted a quickie divorce, but the rumours have continued right in to this week, with reports that Madonna will give Guy £32million in a divorce pay-off. It looks like this divorce will continue to hit the headlines well into 2009...