Photos of Marion Cotillard, Helen Mirren, Mariah Carey, Anna Kendrick at 2010 Palm Springs Film Festival Full List of Winners
Stars Come Out For Palm Springs International Film Festival
Helen Mirren, Marion Cotillard, Mariah Carey and Anna Kendrick took to the red carpet at the opening gala of the Palm Springs International Film Festival yesterday, before each of them picked up an award. Helen was honoured for her Career Achievement while Anna was named Rising Star, Marion received the Desert Palm Achievement Actress Award, and Mariah Carey was given her Breakthrough Actress Performance Award by Precious director Lee Daniels.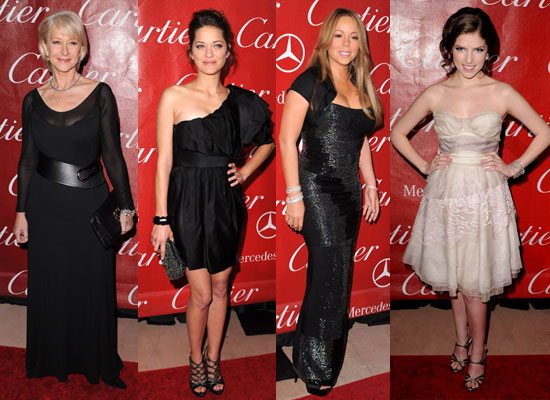 Morgan Freeman was honoured with a Career Achievement Award and smiled big on stage with Clint Eastwood. Quentin Tarantino was thrilled with his Sonny Bono Visionary Award, presented by Diablo Cody, and other award recipients to collect their gongs on the night included Director of the Year Jason Reitman and Desert Palm Achievement Award winner Jeff Bridges. Michelle Pfeiffer and Sean Penn also took to the stage as awards season kicks off.
To see more pictures of the red carpet and show, just read more.
Images include: Marion Cotillard, Helen Mirren, Mariah Carey, Anna Kendrick, Clint Eastwood, Morgan Freeman, Quentin Tarantino, Sean Penn, Jason Reitman, Lee Daniels, Jeff Bridges, Michelle Pfeiffer, Diablo Cody