Photos of Marion Cotillard, Kanye West, Mischa Barton, Dita Von Teese at Paris Haute Couture, Plus Mischa With Luke Pritchard
Dita, Mischa, Marion and Kanye Say Oui to Haute Couture
Fans of fashion are descending on the French capital once more for the Spring Haute Couture shows, with a gaggle of celebs turning out for the fantasy-filled John Galliano collection at the Christian Dior show at Musee Rodin yesterday. Dita Von Teese and Marion Cotillard embraced silver and grey, reminiscent of the colour du jour at the Paris Fashion Week shows last autumn, while Kanye West combined different textures and Mischa Barton stood out in yellow: do you love or hate her beauty look?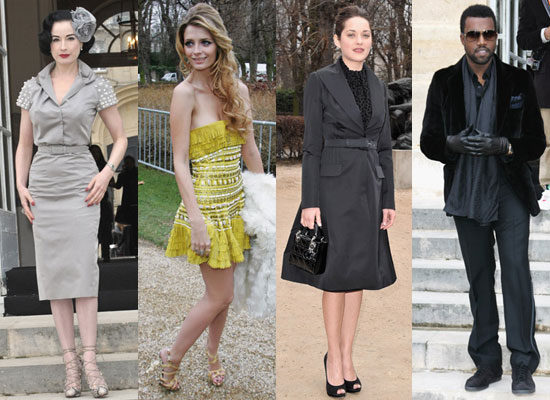 Dita will be staying in Paris as she's performing her burlesque act plus songs at the Crazy Horse, but Mischa and her big hat left France for England last night, arriving in London in time to snuggle up with her new boyfriend, The Kooks' Luke Pritchard.
To see more pictures of Mischa and her new boyfriend, just read more.