Photos of Matt Smith Doctor Who and Interview Quotes in Esquire April 2010 Issue Leonardo DiCaprio on Cover
Matt Smith Tells Esquire Why Dr Who's a Crap Lover
Matt Smith is making waves as the youngest ever Doctor Who, taking over from the hugely popular and award-winning David Tennant. He's been busy filming since last Summer, but he found time to pose for a series of sultry photos and chat with Esquire about how he was always destined to play Doctor Who, why he thinks the Dr is a crap lover, and how his failed football career led him to acting. Here are the highlights: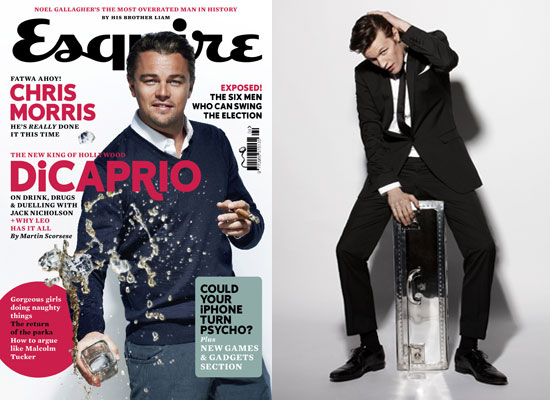 On being destined to play Dr Who:: "At university I had a big coloured scarf, and people would often say 'Alright, Dr Who?' And I thought, I rather liked the notion."
On auditioning for the role of a Time Lord: "It has to be your version. I tried to be creative and artistic, and silly, and crazy, and also the cleverest man in the world, and part of that is there's a rapidity to the way he speaks. He's an intergalactic genius, a superhero-ish, mad, fumbling, bumbling, science geek. He's everything you can pluck from any universe and put into him."
To find out what Matt said about Dr Who's sexual prowess and his football dreams, read more.


On why Dr Who makes a crap lover: "It's because he's to busy. He's an addict – if he stopped saving the world, he'd be in real trouble."
On his pro-football career ending before it began: "Essentially the white tissue in my back wasn't regenerating, because I was playing too much, and if I'd carried on, then in my mid-twenties I'd have had to have an operation, and you don't really want to be having surgery on your spine. It was very tough though.I remember crying because it was all I'd ever invested in. I hadn't really considered acting."
The full feature appears in the April issue of Esquire, on sale Thursday 4 March.
Photographer credit Alisa Connan. Pictures courtesy of Esquire