Photos Of The Men On The Red Carpet At The 2008 MTV Europe Music Awards, Take That, Jared Leto, Travis McCoy, Tokio Hotel etc
2008 MTV EMAs: The Boys Go Hell For Leather
There were a lot of dapper men on the red carpet at last night's MTV Europe Music Awards. My favourite boys Take That performed and were interviewed at the spectacular show, and they all looked very handsome on the red carpet in their smart-casual black suits. Another of my adolescent crushes, Jared Leto, also played a big part in the show, hosting interviews in the VIP bar area wearing an Obama tee which matched those of his 30 Seconds To Mars bandmates.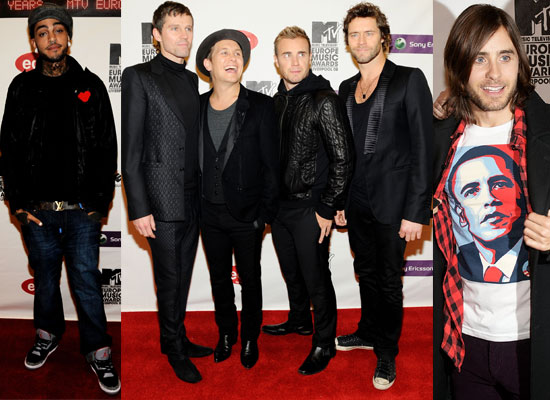 Hostess Katy Perry's musician man Travis McCoy wore a heart badge and looked casual but oh-so-cool in his MTV-appropriate jeans and a leather jacket. The leather-look jacket combo was the most popular look of the evening with Travis, Gary Barlow, Craig David, Lemar, Kid Rock, Kelly Jones and Sway working the look! It's classic for a reason...
To see more photos of the boys on the red carpet at the 2008 MTV EMAs, just read more.