Photos Of The Mighty Boosh's Noel Fielding In Ireland
Noel's Sweet New Year's Resolution
Noel Fielding left his hotel in Dublin yesterday, dressed eccentrically in a multicoloured tartan jacket, black leggings and gold boots. He and his Mighty Boosh collaborator Julian Barratt are playing the last few dates of their mammoth live tour, with the whole thing wrapping up in Aberdeen on January 17. The funny pair have also summed up 2008 in a video interview, looking back at various things like Valentine's Day and the credit crunch. He's also been talking new year's resolutions, saying: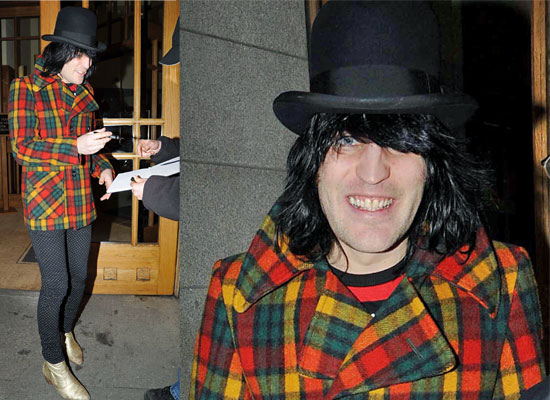 "Resolutions are a shocker. I just want to stop buying so many sweets and make my own instead. Rather than Haribo Fantasy Mix, I'd make my own Reality Mix. They'd have things like egg sandwiches, phone bills and Oyster cards in them."
As much as I love Noel's crazy ideas, I'm not sure that one's going to go anywhere!