Photos Of Mischa Barton In Marie Claire UK, She Talks About Her DUI and Returning To TV
Mischa Talks Meeting Fans And Messing Up
Mischa Barton stars on the cover of the 20th Anniversary Issue of Marie Claire magazine this month, and opens up to them in a revealing interview where she discusses her fans, her DUI, her experiences of TV and more. Here are some excerpts: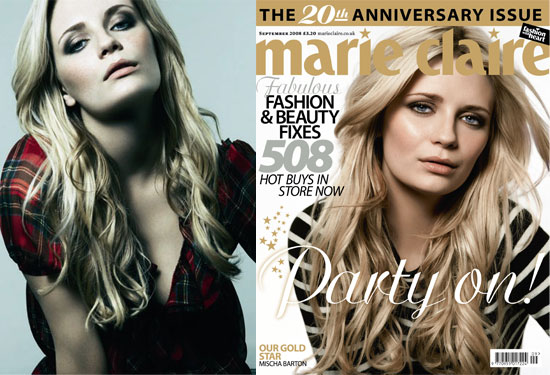 On meeting her fans: "Sometimes I am a bit surprised when people come up to me and they're like, "You're so nice! I didn't expect you to be so cool." It's so weird because I'm like, "Well, how did you expect me to be?" I'm not really sure what people's preconceived notions are."
On her DUI charge: "It was a low point in my life. I mean, the truth of the matter is, I was being irresponsible to begin with – I moved to LA and never got a licence. I don't know, it was just an awful low for me."
On the press coverage it received: "Even though, in a lot of ways, my upbringing has been quite liberal, something like that is embarrassing and appalling for my parents. It was a surreal experience and I was shocked at how much press it made but, the thing is, I apologised – and you have to just hope that that's enough, because what else can you do? I'm just living life, and people make mistakes, you know?"
To find out Mischa's thoughts on returning to TV, her love life, and soulmates – just read more
When will she return to television?: "...when I understand it better. Because I didn't understand it. When you're 16, you don't know what the hell you're getting into. Like, I had no clue. LA was a shock to the system."
On her love life: "I'm lucky to know you can have more than one soulmate in life. But, like a true actress, I'm always changing the way I feel about who I want to be. Nowadays, I feel I'm settling more into a woman and I'm understanding who I am."
Read the full interview in the latest edition of Marie Claire magazine, or if you just can't wait to get until you get to the newsagents you can take a look behind the scenes at her cover shoot too!