Photos of Natalie Portman on the Cover of British Elle Magazine Talking About Nudity and New Movie Brothers 2010-01-05 04:56:04
Natalie Portman Natters About Nudity and New Challenges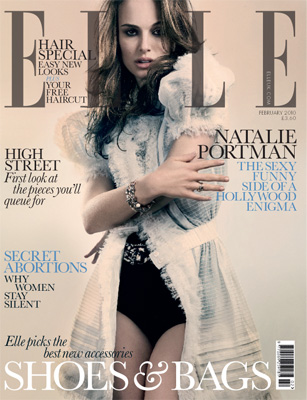 Natalie Portman is on the cover of this month's Elle magazine, and inside she dishes to the mag about her upcoming movie Brothers, her image, the future and on screen nudity. Here are some extracts:


On nudity: "I'm definitely not a prude about sex or nudity. I just don't want do something that will end up as a screen grab on a porn site... so meanwhile I'm doing halfsies. I'm like, 'I'll show my butt but not my boobs.' Nobody really cares about butts."




On her image: "The good-girl image was something I consciously cultivated after Léon. There was a lot of controversy about the whole Lolita thing. My parents were super-protective about it, but I got a lot of weird letters. It was really upsetting. I didn't want to be seen as a sex object, so I went the opposite direction... You look at Meryl Streep, who is so phenomenally, freakishly gorgeous, and in some ways it's just bizarre that she was never a sex symbol. But it was always about her – and now it doesn't matter that she's getting older, because we just want to continue watching her be an interesting person. Whereas you see actresses who marketed themselves on their bodies, and they might be good, but over time they just lose it because that sort of thing doesn't last."
Find out what she has to say about working with Jake Gyllenhaal and Tobey Maguire in Brothers after the jump, as well as the reason she hasn't been keen on taking roles in comedy movies — just read more.


On marriage: "It's funny, some of my actress friends and I talk about how none of us have the big wedding obsession that other girls our age have, and I think it's because what girls experience on their wedding day happens a few times a year for us. Any time you go to a premiere, you get your hair and make-up done and everyone is looking at you. So when I'm not working, I want to be comfortable. That's why sometimes I see pictures of myself and I'm like, 'What am I wearing?'"




On her role in Brothers: "It's every woman's fantasy, isn't it? To have two guys fighting over her?... I've known both of them (Jake Gyllenhaal and Tobey Maguire) for a long time, so it's pretty amazing to work with people you have that level of familiarity with, even though it's challenging to be a different character with somebody who knows you as you... I would bake on weekends and go have snowball fights with the girls who played my daughters in order to lighten things up. But with the guys it wasn't so easy. They got very dark."




On venturing into comedies in the future: "It wasn't that I didn't want to do comedy. It's just that I would only get offered girlfriend parts in guy comedies, which aren't exciting to me, or those offensive roles in romantic comedies where the woman has to have a job in fashion so that she can have nice clothes, and her goal is always marriage. I'm more interested in finding characters that make me laugh."
You can check out the full interview in February's Elle UK on sale tomorrow — January 6.