Photos of Nicole Kidman And Hugh Jackman at Photo Call and Premiere of Australia
Nicole Natters About Her Future Next to Hugh in Australia
Nicole Kidman doubled up her chic style in Sydney, going for a sleek chignon at the photo call for Australia and then literally letting her hair down for the world premiere. As we've seen from the rain-deluged jungle in I'm a Celebrity, the sun doesn't always shine in Australia, so Nicole and costar Hugh Jackman had to engage the services of umbrella holders as they walked the red carpet, but the rain didn't dull their smiles. It sounds like we'll need to make the most of Nicole's new releases while we still can since, like Angelina Jolie, Nicole has said she's unsure of her future as an actor: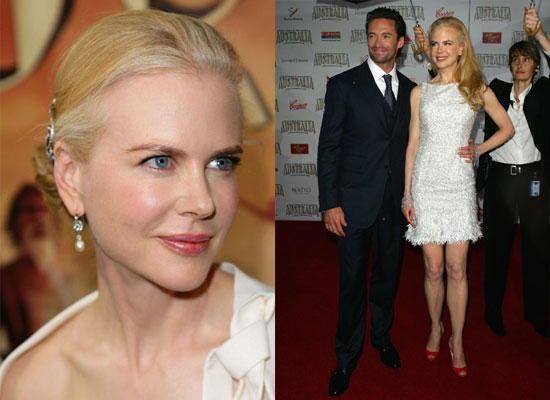 "I am in a place in my life where ... I've had some great opportunities and I may just choose to have some more children. I've no idea what is in my future but I am very at peace with where I want to be. There are many things I want to do besides act."
After seeing photos of the shooting I can't wait to see this film, which opens in the UK on Boxing Day. Do you plan to see the Baz Luhrmann movie too?
To see more pictures of the premiere, and the photo call, just read more.