Photos of Noirin Kelly's Ex-Boyfriend Isaac Stout Who Has Entered Big Brother
Noirin's Ex-Boyfriend Isaac Enters Big Brother!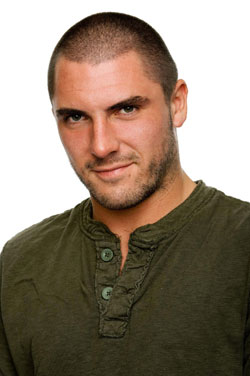 Big Brother keeps coming up with twists, and the latest development involves Noirin Kelly, who's ex-boyfriend has entered the house! Isaac Stout is a 23-year-old American, and has flown over in an attempt to win her back.
He reportedly entered the house wearing a helmet under the premise of delivering fish and chips, and Noirin shrieked when he revealed his face. They hugged and then discussed Noirin's romances in the house, with Noirin apologising to him for kissing Siavash.
Bar owner Isaac, from Ohio, met Noirin two years ago when she was travelling in Australia and he was filming The Real World: Sydney. Noirin has said during the show she still loves him, even though she's had attention from Sree, Marcus, Tom and Siavash in the house. Isaac has also admitted he is still in love with her.
With Noirin up for eviction against Marcus on Friday, will history repeat itself and Noirin have to leave, just like Karly and Kenneth? How do you feel about this latest development?