Photos of Paul Weller's Daughter Leah Weller in InStyle Magazine UK May 2010
Leah Weller Shows Off Her Rock'n'Roll Roots For InStyle
Model turned singer Leah Weller is featured in the new InStyle Magazine, looking gorgeous in tribal fashion. She's the 19-year-old daughter of Paul Weller and Style Council singer Dee C Lee, and the mag lists ten things you ought to know about the up and comer! Here's a few: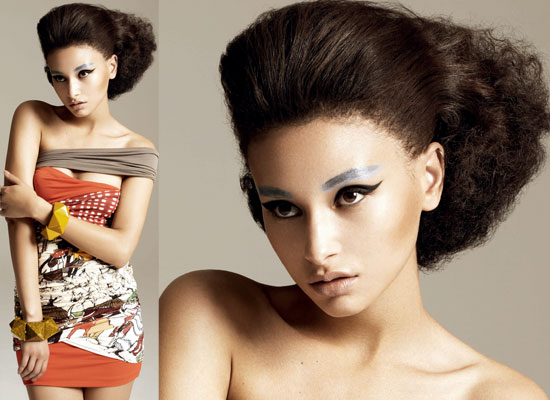 On her music: "I'm still in the early stages of writing music and lyrics. Once I've got enough stuff, I'm going to tout my demo around record companies. Although the industry is going through such a hard time at the moment."
On her painting hobby: "I mostly do watercolours. I actually went to art college for half a year, but I dropped out. When I was a bit younger, I was going to go sell my paintings at Portobello market, but then I found out you need a licence, so I gave up that idea."
On her shoe obsession: "I've got about 50 pairs at home. My favourites are a pair of lovely, black patent, open-toed Burberry heels from last summer. They go with everything."
On her un rock'n'roll lifestyle: "I don't really go out that much. I really love staying at home with my cat actually! I live with my older brother Natt in St John's Wood. We're really close. People think we look so alike, they mistake us for twins sometimes."
On her first guitar: "I ended up getting a white Fender guitar when I was about 13, after saving up for ages. I sold it to a friend, though, and now I've got a Martin acoustic that was handed down to me from my dad. I hope it comes with a bit of luck!"
You can read the full article about Leah's life in the May issue of InStyle!