Photos of Peaches Geldof, Beth Ditto, Pamela Anderson, Vivienne Westwood, Diane Kruger, Milla Jovovich at Paris Fashion Week
Peaches, Pammie And Pals Party Hard at Paris Fashion Week
The fashion crowd are in France this week as Paris Fashion Week is well under way. We've already seen Charlize Theron at Dior and Salma Hayek at Balenciaga, and plenty of Brits joined them on Friday. Kristin Scott Thomas, Bianca Jagger and Jade Jagger were at the Lanvin show, while Georgia May Jagger was watching Pamela Anderson making headlines with a wardrobe malfunction on the catwalk at the Vivienne Westwood show. Peaches Geldof was everywhere, showing off her plaits on Saturday after jokingly "marrying" her friend.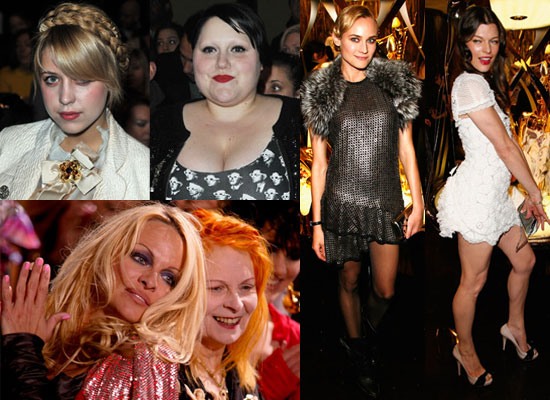 Fellow Fashion Week devotee Kanye West was also getting his fill of the ready-to-wear shows with his girlfriend Amber Rose, alongside Anna Wintour, Lou Dillon and Beth Ditto, who is expected to perform for Fendi later this week. Lots of stars came together for Roberto Cavalli's boutique opening party, including Diane Kruger and Milla Jovovich as well as Peaches, Kanye and Jade. Check out my girl Fab UK's round up of the weekend's shows.
To see dozens of pictures of all the celebs, including Charlize Theron, Salma Hayek, Kristin Scott Thomas, the Jaggers, Kanye West, Anna Wintour and Lou Dillon, read more.
Images include: Charlize Theron, Salma Hayek, Francois-Henri Pinault, Kristin Scott Thomas, Bianca Jagger, Jade Jagger, Georgie May Jagger, Pamela Anderson, Vivienne Westwood, Peaches Geldof, Kanye West, Amber Rose, Anna Wintour, Lou Dillon, Beth Ditto, Diane Kruger, Milla Jovovich