Photos of Peter Andre at Album Signing in Birmingham, Watch Interview on This Morning and Live From Studio Five About Girlfirend
Peter Andre Sets the Record Straight About Girlfriend
Peter Andre was a busy bee yesterday, signing albums in Birmingham, and giving two TV interviews in response to Katie Price's interview on Live From Studio Five the previous day. He chatted with Holly Willoughby and Phillip Schofield on This Morning about Katie sending him texts and voice messages, and responded to Katie saying she saw him kissing another woman by saying he hasn't met anyone yet, and Katie must have seen his children's nanny: check out a video of the interview after the jump. He also spoke to Kate Walsh on Live From Studio Five about his album, TV show, divorce and children. Here are the highlights: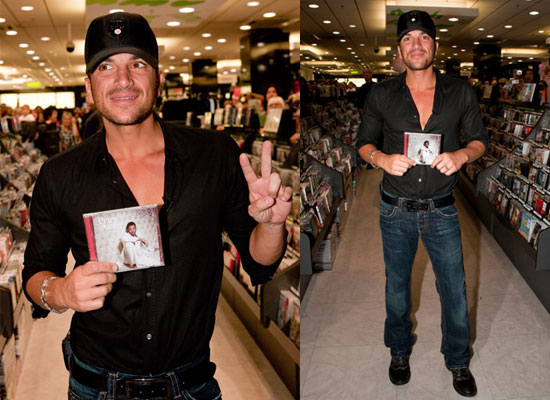 On whether him and Katie will ever be friends: "I have said before that I reckon for the sake of your kids you will do a lot, you will compromise and do things and I think yes there will be a point, just when things are a bit raw, in the big picture it's only been four months."
On whether he'll hold out an olive branch: "I've thought about it for the kids, but I've not thought about how or when I just know that time is a healer, everybody says that, and I believe it."
On meeting someone in the future: "I wouldn't want to bring them onto the show. That would be the last thing I would want to do. If I met someone now I would want to keep them away from it."
On providing for his children: "It shouldn't be about me or her, as long as we both do ok, then our children will benefit in the future – It doesn't matter, I mean I'm not complaining, but it doesn't matter, but any properties or whatever will be for them."
To watch Peter's interview on This Morning and to see more pictures, read more.