Photos of Peter Andre in Hove, Who Says He Would Have Taken Katie Price Back
Peter Might Have Reconciled With Katie
Peter Andre gave a thumbs up to the cameras as he left his house in Hove yesterday. The rumoured cookbook writer will be waiting anxiously to find out whether his new single makes it to number one on Sunday, while Katie Price is allegedly planning a new addition to the family with her boyfriend Alex Reid. Pete has spoken about the split and his music in an interview with New! magazine, and has admitted there had been a chance for reconciliation. In reply to a question about whether they might have got back together, Pete said: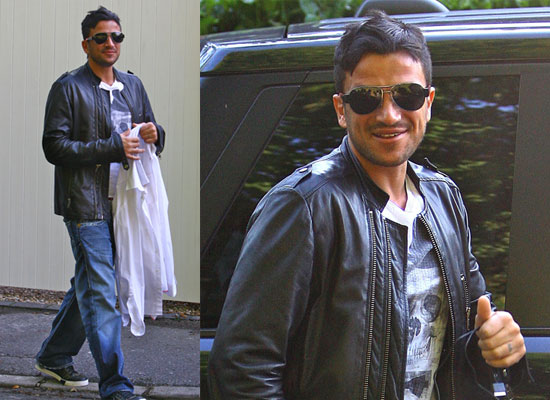 "Me leaving Kate was definitely the right decision. It had to be done. If she'd handled things differently after the split, who knows? Things might have been different... For the sake of the children, maybe I would have [taken her back]. I've always said I'm not going to say why we split – although I had very good reasons – but what's happened since the split has nailed it in the coffin. Things could have been different, that's all I'm going to say."
If Kate had been on her best behaviour and begged him to come back, Peter revealed that he might have agreed: "that's what hurts me the most. It could have been different. I still had that element of waiting to see how she'd act". I wonder how Kate feels about this revelation.