Photos of Peter Andre and Jordan aka Katie Price, Who's Told The Sun Their Relationship is Fine
Jordan Chats About Rumours, Riding and Revenge
Katie Price/Jordan and Peter Andre went to ITV's London studios to appear on yesterday's This Morning, where they hosted a slot on the show about the goings-on Down Under on I'm A Celebrity. Although they've been pictured partying separately recently, Kate (who apparently will soon be trying for another baby), has hit back at rumours their relationship is rocky. She's also been chatting to The Sun about her dressage ambitions and the new contestants in the jungle. Here are highlights: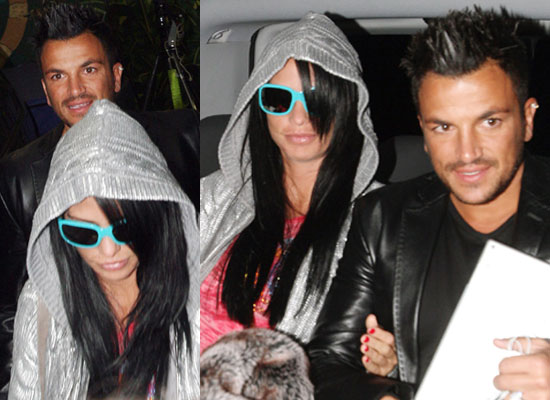 On the new I'm A Celeb contestants finding love: "If they do people will always say they're trying to be like me and Pete and they'll end up living in our shadow. But good luck to everyone in there. It is a bloody hard show and they do starve you — it's tough."
On rumours her and Pete are splitting up: "I've only been pictured on a night out twice without Pete. Everyone assumes we're arguing and about to break up. Just because I went out two weeks on the trot with the girls it's a big drama and everyone jumps to the conclusion we have split up. No one looks back to see when was the last time I went out without Pete — they just focus on one or two pictures and jump to conclusions."
To see what Kate said about how they react to the rumours, her dressage ambitions, and how she feels about Cartier, just read more.
On how they react to the rumours: "Pete and I laugh about it. We can't win. If we're smiling for the cameras they say we're setting it up to gloss over the cracks. If we're not together they think we've split up."
On the stories she reads about herself: "I know you can't always have good publicity, which is fair enough as long as it's true — but in this case it's not. I read all sorts of things. Last week one magazine said I was worried my face was looking frozen. The amount of money I've spent on Botox I'd be more worried if it wasn't frozen, I'd be going mad. In the end it all just makes me stronger and we have the last laugh — so bring it on."
On her dressage ambition to compete in 2012 Olympics: "It is a dream. I know I've only got a slim chance but it's something I've got to aim for. There are thousands of brilliant riders out there. I know I might not make it but I'll still give it a try".
On her training plans: "I have just bought another horse in Holland — it's one of the best in the world. You can pay up to six figures for the best. I'm loving it and ride every day. Pete and I are going to the US in January for three months to film the next series of our reality show. I want to take one of my horses as I'll need to train."
On Cartier snubbing her: "If Cartier invited me next year I wouldn't go — I'd never go now. I don't forget things like that — I won't even wear Cartier now. It's the sort of thing that has happened to me before, like when I was starting out and wanted certain people to manage me. They wouldn't because they dismissed me as just another Page 3 girl. Now they're kicking themselves, because I'm doing well, and approaching me. I'm like, 'Jog on.com'. I have really good management around me. I've been asked to play in a polo match which opens the Horse Of The Year Show. They have a celebrity on each side and I'm going to do that, it's bigger than the Cartier polo event".
It certainly sounds like Kate's having the last laugh. Good on her.