Photos of Peter Andre Moving In to New House, as Jordan aka Katie Price Denies Bullying Him
Katie and Peter Focus on Fitness as They Move On
Peter Andre had his hands full of toys as he continued to move in to his new house in Hove yesterday, with Katie Price saying in her OK! column that she's "pleased for him". She added: "I also heard he has a new admirer, so good luck, guys!" possibly referring to Chantelle Houghton's comments. Following reports that Peter said Katie bullied him and cheated on him, a friend has said Peter would never say such a thing. Both of them are focussing on fitness, with Kate taking up boxing, martial arts and boot-camp training, and Pete saying: "I'm trying my very best to eat well and to exercise regularly, so I have plenty of energy when I see [the children]". Kate also responded to comments on her figure at Clothes Show Live, and wrote: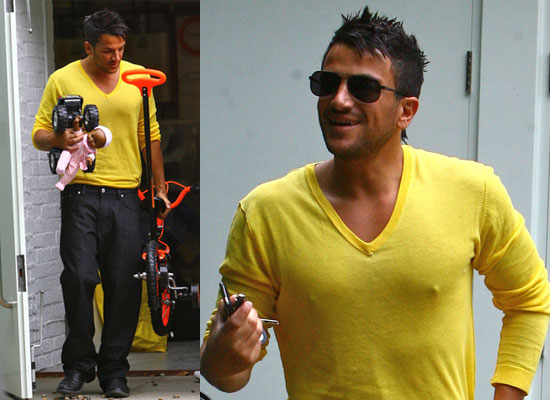 "In the press this week they say I've lost a stone. Well if they'd done their research they would know that training for a marathon gives you muscles, so now I've stopped running I'm back to my normal size."
Peter has also addressed his weight loss, so it's good to see they're keen to keep healthy.
More pictures of Pete moving in, so just read more.