Photos of Peter Andre Wearing a Team Children T Shirt and Katie Price in Her New Pink Horse Trailer
Peter Wears His Alliance on His Shirt While Katie's in the Pink
Peter Andre changed his outfit several times at his home in Hove yesterday as his filmed his reality TV show, while Katie Price drove her new pink customised horse trailer through Surrey. At one point he wore a Team Children t-shirt, referring to the Team Price and Team Andre tops which went on sale soon after the couple separated, which the majority of you thought were fabulous rather than freaky! Following suggestions that Kate is dating a cage fighter, more rumours are circulating about Kate's love life, with reports suggesting Jade Goody's widower Jack Tweed wants to date Kate. Peter's focussing press attention on his album, and has explained why he decided not to release "Call The Doctor" as the first single, saying: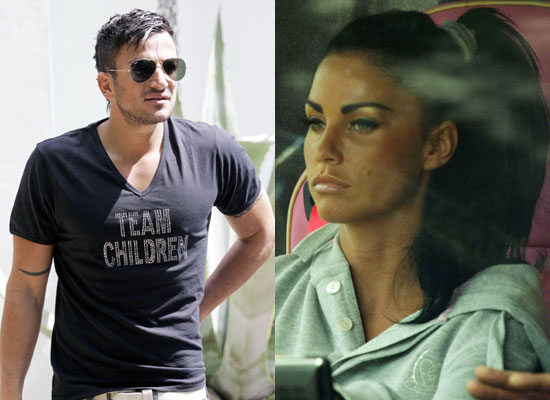 "It ended up being so relevant to now, too relevant, that we decided it's too personal. It's going to be on the album, but as a first song, it would be too like, as if you've just written it."
He adds that first single "Behind Closed Days" is the right choice because it "says enough, but not too much". It's not surprising, then, that Kate is wondering whether Pete planned the split to coincide with the launch of his new music. What do you think?
To see more pictures of Peter and Katie going about their separate lives, just read more.