Photos of Pixie Lott on the cover of InStyle Magazine Plus Extracts from her Interview
Pixie Talks About Lots of Big Ambitions for the Future
Pixie Lott stars on the front cover of the latest issue of InStyle magazine, and has spoken exclusively to them inside! She talks about what she wants to achieve, and her opinion on reality TV singers from shows like The X Factor. Here are some extracts from her interview: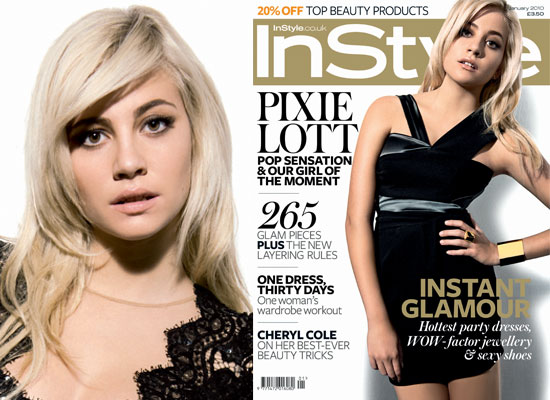 On ambition: "I'm a very ambitious person. Two number one singles is nothing. What I'm most excited about is doing tours – massive shows to massive crowds. And I want to get more involved in fashion… and films. I'd love to act in the future. I know it's dangerous for singers to go down that route… but I just want to do everything."
On reality TV singers: "The X Factor's great for people like Leona Lewis and Alexandra Burke because they start with a massive fan base. But I think it's better to work your way up. If you get somewhere, you feel like you've really done the hard work to get there. And you also have more creative control."
On drugs:"Now I'm in the industry, I haven't really had that, but kids my age generally do. I was offered them even before I released my first single. There's loads of it nowadays, but it really doesn't appeal to me."
You can read the rest of Pixie's interview in the new issue of InStyle magazine, out now!