Photos of Pregnant Coleen Rooney Who Is Planning a Caesarean
Pregnant Coleen Rooney Makes Plans For Caesarean
Coleen Rooney kept her baby bump covered up on a shopping trip in Wilmslow yesterday, but gave us a peek at her blossoming belly when she turn sideways. Having confirmed she's pregnant just two weeks ago, Coleen is already making plans for the birth. According to The Sun, Coleen is planning a Caesarean section in late September, because her due date of 10 October clashes with England's World Cup qualifier in Ukraine and she wants to ensure Wayne is by her side for the birth. The expectant mum isn't so sure about names yet, saying: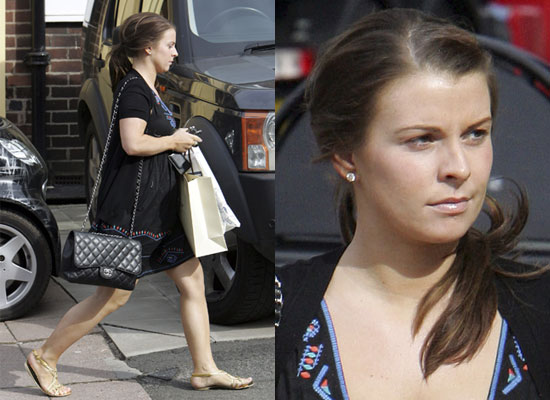 "I was really pleased to hear that Gareth Gates's wife Suzanne gave birth to a baby daughter, which they have called Missy. It's a nice name, if a little bit unusual, though it's not as odd as some – the week before Jamie Oliver called his new daughter Petal Blossom Rainbow. I like it, it's really girlie. Would I call my baby Rainbow or Sunrise Rooney? I don't know if I would. I haven't thought about names yet as you change your mind all the time. Besides, people always say you should wait until you see what the baby looks like before you think about what to call it."
It'll be fun to see how Coleen stays stylish as her belly grows. You can test your knowledge of pregnant stars by taking my quiz on celeb's baby bumps.