Photos of President Barack Obama and Michelle Obama at Inauguration Balls
President Obama Is Joined by Stars for a Ball of a Time
After being sworn in yesterday, President Barack Obama and First Lady Michelle Obama celebrated with stars from both sides of the Atlantic in Washington DC last night. The overjoyed couple had their first dance to the strains of Beyonce singing "At Last", and there were lots of performances at all the balls. Alan Cumming watched fellow British stars Sting and Elvis Costello sing together at the Creative Coalition's Ball, while Tobey Maguire, Demi Moore, Ashton Kutcher and Rosario Dawson enjoyed music from Kanye West and Kid Rock at the Be the Change Ball. Be sure to check out the whole Sugar Network's coverage of this historic inauguration.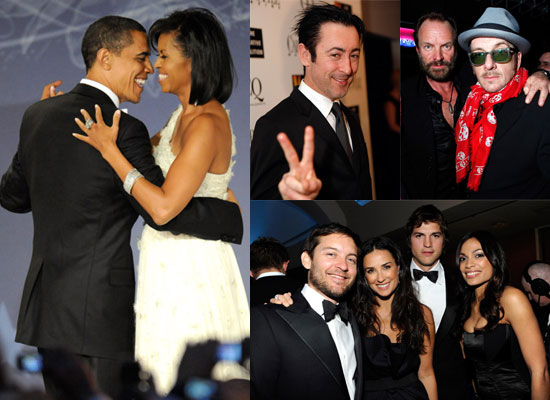 BellaUK has the lowdown on how to get Michelle's makeup look.
To see all 30 pictures from the balls, including Anne Hathaway, Heather Graham, Kim Raver, Maura Tierney, Rachael Leigh Cook, Susan Sarandon, Tim Robbins, Kid Rock, Kanye West, Usher, Pete Wentz, Sam Moore and Jennifer Meyer, just read more.
Images include: Anne Hathaway, Elvis Costello, Heather Graham, Kim Raver, Maura Tierney, Rachael Leigh Cook, Susan Sarandon, Tim Robbins, Tobey Maguire, Demi Moore, Ashton Kutcher, President Barack Obama, Michelle Obama, Kid Rock, Rosario Dawson, Kanye West, Usher, Sting, Alan Cumming, Pete Wentz, Sam Moore, Jennifer Meyer